Inverter® Technology: Panasonic revolutionizes microwave cooking
Panasonic's Inverter® microwave ovens are new on the inside and out. Not only will they forever change the way you cook, you'll also appreciate their advanced cosmetics. Radically redesigned with 21st century technology, Panasonic Inverter® microwave ovens are loaded with powerful and convenient features not found in conventional microwaves.
1200 W High-speed cooking
High efficiency in power transformation through an Inverter® circuit makes it possible.

Microwave oven facts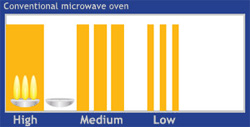 Conventional microwave ovens have been capable of using only one power level. The microwave energy is either on or off. For example, at 60% power, the microwave energy would be on 60% of the time and sit idle 40% of the time.
Inverter® technology facts
Panasonic Inverter® technology provides true multiple power levels. When the user asks for 60% power, the oven delivers a true 60% power, not a "pulsed" delivery of 100% power 60% of the time. This method is called linear power delivery.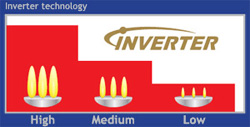 Better cooking results everytime
Inverter® can maintain the best colour, shape, texture and flavours of the food by using the most appropriate power levels for each menu. Various types of foods can cook using a combination of high and medium to low power levels. Because the Inverter® delivers a continuous wave of energy, delicate food items can simmer without overcooking on the edges and surfaces. Due to a consistent delivery of microwave energy, foods will no longer undercook in the centre and have hard, overcooked edges. We can now enjoy better colour, shape, and texture in the foods we cook, along with delicious flavours.
To make things a little easier, there's a multi-lingual display that easily guides you through cooking instructions in English, Spanish, or French.

Additionally, select ovens that have 1200-watt high power setting achieve maximum cooking results in minimum time.

The Genius® Sensor Reheat and Cook feature (select models) uses sensors inside the microwave to calculate proper cooking times and levels, allowing you to cook food perfectly by pressing one button, one time.